Special Shape Infrared Heat Lamp
Special Shape IR Heat Lamp for Industrial Heating
U Shape Quartz tube Infrared Heater Lamps for PET bottles blowers preheating
No.1 Product Despcriptions
Short wave quartz infrared heaters are used in various industrial applications. It contains tungsten filament, helically wound, encased in quartz envelope. Tungsten as resistive element is capable of generating temperature in excess of 2750℃. Its response time is very rapid in 1 second it emits over 90% of IR energy. It is by products free & pollution free. Heat focus is very accurate due to compact and narrow diameter of IR tubes. Short wave IR element has maximum heating rate of 100w/cm.
Benefits of Coating
1. All of our emitters can be coated with a layer of gold or ceramic as reflectors. The gold/ ceramic coating can concentrate the heat, increasing the effectiveness of the heat output.
2. The emitters with coating are highly economical, converting practically all the consumed
electrical power into heat.
3. For the emitters with high watt density or the surface temperature of the tube above 800°C , we suggest to use ceramic coating as reflector because the temperature resistance is up to 1000°C .
In addition to 180°(half-tube) coating, we also manufacture 270° coating or other customer specified degrees.
Forms of expression of Coating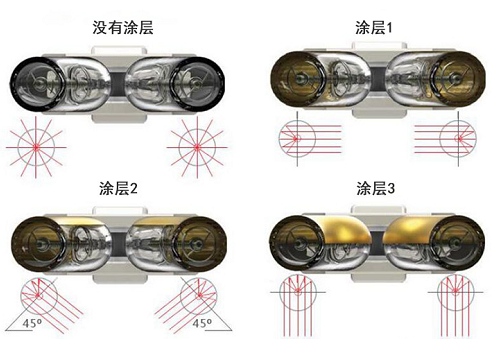 No.2 Why Infrared?
Advantage of infrared heater

energy saving

Infrared radiation unlike convection or conduction, dose not rely on any medium to transfer heat from infrared source to the object being heated, heat directly to the object

time saving

no need medium transferring and quick response, heating by infrared emitters can reach working temperature more quickly than other forms of heating and therefore reduces process times, and increases production rates.

space saving

small size

Labor saving

Easy installation, no maintenance, no extra manual operation for infrared heating emitters.

cost saving

energy saving, so cost saving;

human cost saving: easy installation, reliable operation, low maintenance costs

Better product quality

Controllable, predictable heating reduces wastage and promotes products quality

environment protection

Clean, and no any pollution released to the surroundings
No.3 Quality Service
Our Infrared heater lamps are under standard in CE & ROHS, we have strict quality control to make sure each IR lamp is perfect!
Sample Service
Some samples are free of charge, buyer shoulder the fright cost.
Customized Service
1. All of our infrared heater lamps are customized according to your unique practical request, professional technicians do one-to-one service for you and can customize 1pc IR lamp for your quality testing at the beginning.
2. We offer OEM services, we can print your logo on Infrared heating lamps as your requirements.
After-sale Service
Warranty Time of Short wave Infrared heat lamp: 5,000 hours
Warranty Time of Carbon Fiber Infrared heat lamp: 10,000 hours
Warranty Time of Medium wave Infrared heat lamp: 20,000 hours
During the warranty time, any non-man-made quality issue, once confirmed, we will sent the new replacement immediately without any charge.
No. 4 FAQ
1. What is the payment term?
prepayment 100% advance via wire transfer, Paypal, Western Union
2. Could you provide sample for performance testing and appearance checking?
Yes, we can provide the sample based on your required specs.
3. What information should i provide when enquire?
Lamp's type, Total length,Heating length ,Wattage,Voltage,Ceramic end connection ,Lead length in mm (Standard lead wire length 300 mm),Coating available - Gold coating / Ceramic coating, quantity, it couldn't be better if there is drawing or picture can be provided.
But if it is a new project or it is the first time for you to use infrared emitter, just tell us about your application in details like object material, required working temperature, required time, heating size.
NOTE: customized lamps available on request.